---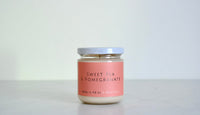 Description
A fragrant bouquet of delicate sweet pea flowers brightened with the essence of fresh fruity pomegranate. This scent is rounded off with top notes of grape, florals, and base notes of musk and amber.

ABOUT OUR CANDLES
Our hand poured candles are made in small batches with high quality 100% American made soy wax and richly scented fragrance oils which are paraben and Phthalate free. Soy candles burn cleanly and slowly - our candles are 8.5oz and has approximately 50 hours of burn time. Our candles are made using premium self-trimming wicks which are made from a blend of cotton with a paper core.

CANDLE CARE
- Trim wick to 1/4" before each burn. This will make your candle last longer and burn better.
- On first burn, let melt pool reach sides of jar. This will prevent tunnelling.
- Never burn for more than 4 hours.
- Replace candle when only ¼" - ½" of wax remains.
Never leave a lit candle unattended!