---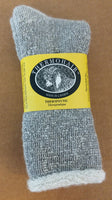 Thermohair therapeutic socks are the similar as our original "Thermohair" crew socks and have been on the market since 1992. They are knit with large loops of luxuriously soft 75% kid mohair and 25% nylon yarn. The therapeutic version lacks the 2 inches of elastic around the cuff for those who prefer nothing binding around the leg. These are often chosen by diabetics, or people with heart and blood circulation problems.   With unparalleled insulation and cushioning, they are the most comfortable, warm, durable socks that you will ever own. 
Although, the large loops inside the socks are made with 75% kid mohair and 25% nylon, nylon is added to the outside of the socks to allow stretch and elasticity.  This reduces the kid mohair content throughout the whole sock, but the loops you feel inside are still a 75% kid mohair / 25% nylon blend.
When including the outer layer of nylon, the total therapeutic sock content is 70% kid mohair and 30% nylon.