---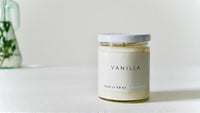 A delicious mix of maple syrup and honey with heart notes of cocoa and vanilla, reminiscent of rich, creamy vanilla ice cream.
These hand poured candles are made in small batches with high quality 100% soy wax and richly scented fragrances. Our waxes and fragrances are both vegan and Kosher certified and the fragrances are also paraben and Phthalate free. Soy candles burn cleanly and slowly, giving the customer more value for their dollar with an over forty hour burn time.
Soy wax candles are a favorite of environmentally conscious people, as they are not made from petroleum and therefore, will not increase CO2 levels in the atmosphere. They last 50% longer then paraffin candles and produce 90% less soot.
The candles are made using premium self-trimming wicks. They are made from a blend of cotton with a paper core.