---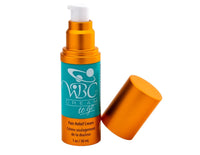 WBC to Go is your favorite Worlds Best Cream in a 30ml travel size pump!  Natural pain relief cream for arthritis and many other pain ailments. This cream is soothing and gentle with a mild fragrance from essential oils.  Worlds Best Cream will help you gain pain relief and there is NO heating or cooling sensation. Try it for yourself and you will be amazed at the results!
From arthritis to back pain, muscle and joint aches and pains, Worlds Best Cream will help give you the relief you have been looking for.
Directions:
Adults apply 3 to 4 times daily for the first 7 days. Reduce to 2 times per day for another 7 days. Use once per day or as needed thereafter.
Uses:
Temporarily relieves aches and pains of muscles and joints associated with one or more of the following: simple backache, lumbago, strains and sprains (involving muscles, tendons, and/or ligaments), and arthritis. Provides penetrating relief.
Please read product label and follow directions. WBC products are not intended to treat, cure or prevent any disease and are not suitable for everyone. Please consult your doctor prior to use if you have any concerns.